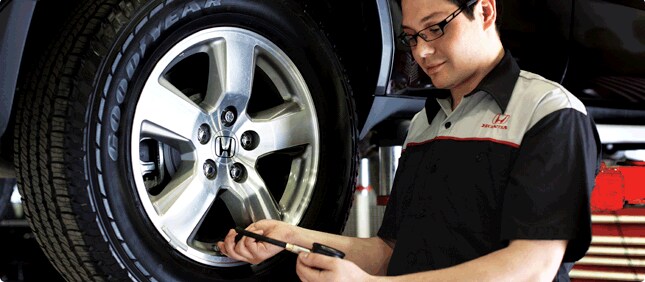 When it is time to replace the tires on your Honda vehicle, consider the impact of using only Honda-approved tires from your Marv Jones Honda. The tires recommended by the service technicians are the best option to provide excellent fuel economy and performance.
Get the Best Prices
Honda guarantees you the lowest price on specific brands. If you find a lower price, Honda will match it so that you get the best deal on your new tires. The brands include:
Michelin
Goodyear
BF Goodrich
Toyo Tires
Dunlop
Firestone
Hankook
Yokohama
Uniroyal
General Tires
Pirelli
Continental
Marv Jones Honda carries original equipment tires with competitive pricing to help you better maintain your vehicle. Ensure optimal performance when you accelerate or stop or while you are steering your vehicle down the road. Honda service technicians understand your Honda vehicle and will help you select the best brand and size for the way you drive.

Choosing Winter and All-Season Tires
You may wonder how important it is to switch between all-season tires and winter tires if you live in the Vancouver area. With snowy winters and cold temperatures, it often makes sense to put winter tires on your vehicle if you have to get out in the weather or travel far distances.
All-season tires are great for most weather conditions and provide the durability and traction you need. They are designed for temperatures above 7 degrees Celsius. Winter tires are specially designed for cold weather and wet pavement. They help reduce braking distance on snow and ice-covered roads and provide better traction to improve the performance of the systems designed to help you stop your vehicle, such as vehicle stability assist, traction contro,l and the anti-lock braking system.
Take Care of Your Tires
You can extend the life of your tires by following proper maintenance guidelines in your Honda owner's manual. Some steps you can follow include:
Maintain proper tire pressure. Make sure you check your tires regularly and have them serviced if a low pressure light comes on.
Maintain wheel alignment. Wheel alignment changes over time, especially if the vehicle is driven over rough terrain. Have tires realigned as recommended in your owner's manual or when your Honda service technician recommends.
Keep wheels balanced. As the tires wear down, their balance may change and should be checked when you rotate your tires.
Your tire air pressure, wheel alignment, and depth of the tread impacts the fuel economy of your vehicle. By ensuring that your tires are in good shape, you can improve the efficiency of your Honda.
To learn more about how tires affect your vehicle and for help choosing the right replacement tire for your Honda model, talk to your local
Greater Vancouver Dealer - Marv Jones Honda
. Not only does
Marv Jones Honda
provide excellent choices when purchasing your Honda vehicle, they offer outstanding service to help you maintain it for long-lasting value. Trust
Marv Jones Honda
to give you No Bull, only great sales and service.